A Car Park carrying out work to enlarge its premise whises to take advantage of this period to secure its site.
The customer wanted to provide an outdoor solution to protect the cars and equipment stored on the car park.
Constraints to consider :
With the number of cars and their locations changing everyday, the customer wanted a perimeter solution which takes up little space in order to maximise the size of this car park.
Part of the site must also be isolated and secured from any passage.
Securing a perimeter of 500 m with G-FENCE 600Z
1 protected access with Biris
1 protected passage way with Coliris
3 technicians on site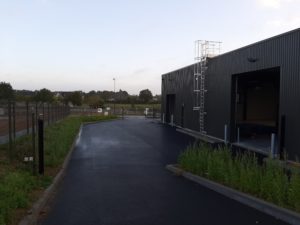 After studying the site and observing the constraints of the site, the shock detection cable on the fence proved to be the most appropriate solution.
Shock detection cable : G-FENCE 600Z, this fence detection solution can detect any attempt to cut, climb, and tear down.
Its zoning function guarantees precise detection and optimises alarm verification.
Active infrared modules :

BIRIS

modules are installed above the gate to detect any attempt to climb over the gate
Active infrared barrier : COLIRIS creates a real immaterial detection wall thanks to its height of 2m and its 4 adjustable detection cells. This active infrared barrier protects the passage way which leads to the storage zone.