SORHEA launches the G-FENCE 2400
The new generation shock detection system for fences
SORHEA, the benchmark in perimeter intrusion detection for sensitive sites, is offering a new shock detection cable solution: the G-FENCE 2400.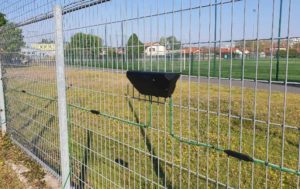 It can be installed on any type of fence and is able to send alarms, via 3 natively integrated outputs: dry contact outputs, an IP network output, via MODBUS and/or API protocol, and a MAXIBUS network output. Easy to install, the G-FENCE 2400 is made up of standard electrical cables with pre-assembled accelerometers and a control unit. The system can be managed directly via the integrated web server in the control unit: no additional tool or software is required. Recognised for its detection quality, SORHEA's shock detection cable is exceptionally easy to install and maintain. If the cable is cut, simply reconnect the electrical cables to get the damaged section up and running again.
Fully remote multimode alarm transmission and management
Choosing the alarm transmission mode is a thing of past: everything is integrated in the G-FENCE 2400, which has been designed for versatility and adaptability to changing installations. In addition to its 12 dry contact outputs (including 1 tamper, 1 technical defect and 1 intrusion per zone), the system comprises 1 Modbus TCP output for direct integrability with VMS via API and 1 output on the dedicated SORHEA solution network. It is therefore possible to install several control units on the same network, in addition to MAXIRIS, PIRAMID and MI8, and then to connect them all to a MAXIBUS Universal. What's more, these transmission modes are available simultaneously.
The user or integrator can therefore:
– Adapt the solution to any type of site architecture.
– Optimise start up with remote configuration (via the control unit or MAXIBUS).
– Reduce maintenance time and costs thanks to remote access to the history log, real-time intrusion visualisation and general system status (accessible via the control unit or MAXIBUS).
– Enjoy the benefits of a solution perfectly designed to evolve through system upgrades without the need to replace any of the components.

A fully integrated solution that is very easy to install and manage
The G-FENCE 2400 solution is made up of 100 m detection cables, with standard electrical wires and pre-assembled sensors, all connected to a control unit. This system makes the G-FENCE 2400 easy to install on any type of fence, inside or out. It can also be installed on cladding to detect attempts at cutting, tearing or perforation. If the cable is cut, simply reconnect the damaged section and the system is repaired! LEDs integrated in the sensors make it possible to configure sensitivity and locate defects (maintenance).
No software to install, full interaction with the system is performed through a web interface. It can therefore be updated remotely and evolve according to need with no intervention on the equipment.
High-level efficacy
One control unit provides up to 600 m of detection with 12 alarm contacts. It controls up to 240 sensors distributed along 6 x 100 m cables. The zoning function makes it possible to configure 10 detection zones, with intrusion and/or cutting localisation performed by the closest sensor. Highly insensitive to weather conditions (heavy rain, wind, etc.), the G-FENCE 2400 is also resistant to electromagnetic environments. By offering 3 alarm transmission modes natively integrated in the control unit, the G-FENCE 2400 is one step ahead of all other systems on the market.
Lastly, the product is backward compatible with the G-FENCE 600/600Z solutions: no new installation required, simply change the electronic card in the control unit and the detection system upgrade is complete!
Sample installation