Each year, GIT Security International selects the products with the best innovations and features on the market to highlight the best solutions on the safety and security market.
We are pleased to announce that SOLARIS, our high performance autonomous active infrared barrier, is in the final of the GIT-SECURITY Award 2022 in the Access Control, Intruder Alarm, Perimeter Protection category.
Now it's your turn to choose your favourite security solution: if you want to support SORHEA and our autonomous active infrared barrier, don't hesitate to vote for SOLARIS!
(votes are open until 23 August 2021)
The SOLARIS is an active infrared barrier consisting of a network of columns that create an immaterial and invisible wall of detection around the site to be protected. The columns communicate an alarm when an intruder cuts the infrared beams as well as filtering any unwanted alarms.
Traditionally, IR barriers need cables for power and to send alarm information. The SOLARIS is an 100% autonomous infrared barrier that is powered by a solar panel and built-in battery.
The alarms are communicated via an encrypted mesh radio network to the MAXIBUS hub that in turn relays the alarm information to third party systems.
The SOLARIS is designed to equip existing sites where there is a real practical or economic interest in removing the civil works.
What makes SOLARIS a unique and innovative infrared barrier?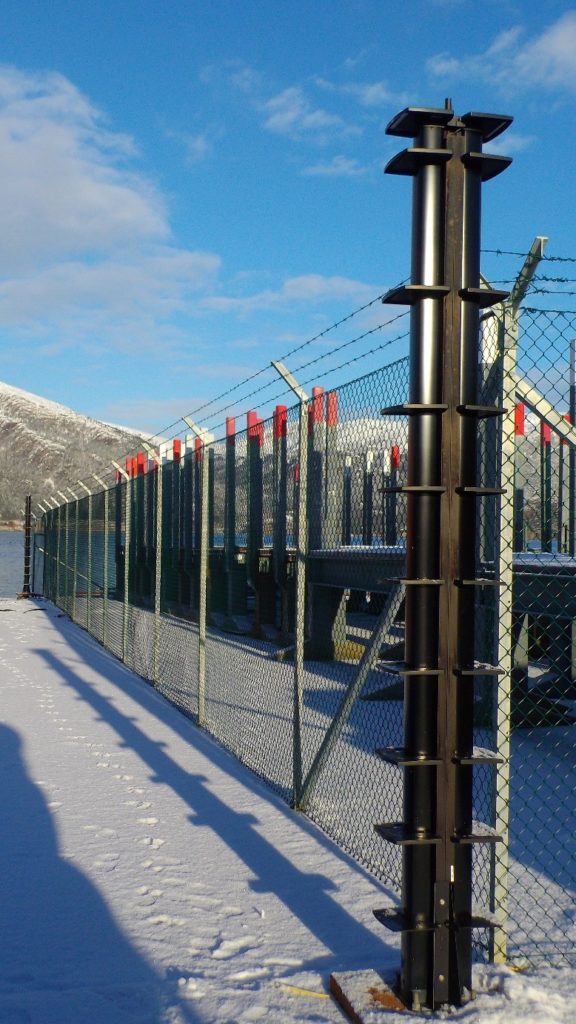 Each SOLARIS column incorporates a self-protected solar panel that is associated with a backup battery that guarantees the operation of the system for up to 2 months in total darkness before sending a low-battery alarm. The operating temperature ranges from -40C to +70C. SOLARIS can be installed everywhere without difficulty, even in countries where it is both very cold and there is limited daylight in wintertime; 1 hour of daylight per day is enough for the system to operate.
Technical features for efficiency
Infrared Consumption:
The cell lenses have been redesigned to have the best possible optical balance whatever the installation conditions
Adjacent columns are constantly in dialogue between each other to adjust the emission of the infrared signal. This guarantees a strong signal in difficult conditions; fog, rain, etc.
Low-power control and evaluation electronics with optimized wake-up times for each circuit.
Traditionally, long-range infrared barriers always integrate a heating system to prevent humidity and frost build-up on the cover. These heating systems consume a lot of energy and are incompatible with an autonomous system. The benefits of a heating system are obtained on the SOLARIS thanks to anti-frost and anti-condensation caps that mechanically prevent the appearance of frost and humidity on the columns' covers and allow the SOLARIS to function at a range of 100m without the needing a heater.
A SOLARIS infrared column consumes only 1mA, which is 500 times less than a traditional infrared barrier
Low Power Radio Alarm Communication:
The SOLARIS radio watchdog quickly detects radio loss despite the low electronic consumption of the system.
Each column is equipped with a transmitter/receiver radio card capable of repeating messages from adjacent columns. The mesh network strengthens the system against interference because there are multiple paths to communicate the alarms.
SOLARIS columns communicate using a proprietary radio protocol encrypted in 256-bit AES that ensures a very high level of security of the transmitted information, and emits on the 868MHz frequency bandwidth with 5 available channels.
Today, there are many low-power wireless solutions on the market, but they take several minutes to detect radio loss due to sabotage or jamming, which is not compatible with a perimeter intrusion detection system for high-security sites. The SOLARIS Mesh radio network communicates alarm information securely and in real time.