On the occasion of its first birthday, our G-FENCE 2400 shock detection cable has undergone a couple of updates. It is now available for installations in extreme climatic conditions and is even easier to install.
The challenge of extreme environments
Many sites have strict product requirements due to severe climatic conditions that oblige the highest possible protection against sand, dust and humidity. Security products installed on such sites require a high protection index, such as IP65.
SORHEA has supplied the IP65 housing for projects in the Middle East as well as West Africa.  To win these projects our R&D team worked on a new design of the G-FENCE Control Unit (UG) to adapt to particularly harsh desertic and tropical climates.
A higher protection rating
G-FENCE 2400 is now available in an IP65 housing. The IP65 housing can withstand extreme conditions:
6 for maximum protection against dust
5 for a watertight protection against significant water jets and downpours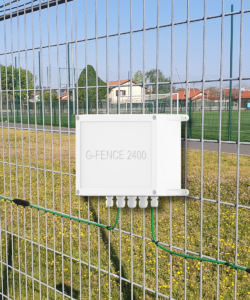 The new IP65 housing, is also equipped with plug-in terminal blocks for easy installation and maintenance. This makes it easier to use and saves precious installation time.
Is your security project complex due to the climate, the topology of the terrain, or customer requirements?
Are you looking for a specific security solution?
Our strength lies in offering you customised solutions. If we don't have a solution that perfectly meets all your criteria, we will develop a special one for you.