A logistics company wants to protect its fleet of vehicles (semi-trailers) to avoid malicious acts that lead to their degradation: cutting truck tarpaulins and fuel theft.
Constraints to consider:
The perimeter detection system must not take up space on the interior space of the site intended for the storage of the vehicles in order to avoid the breakage of products during the maneuvers. In addition, each square meter must be exploited, the proposed solution must therefore have a footprint as low as possible.
300m secure perimeter
3 technologies combined
2 days of installation
2 technicians for commissioning.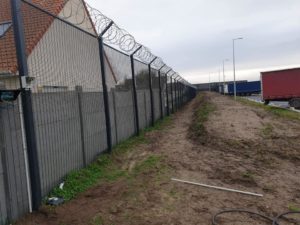 After studying the site and observing the faults of the area, we proposed the combination of several technologies thus ensuring a very high level of detection: